Quest Failed - Chapter One
A downloadable game for Windows, macOS, and Linux
If you enjoyed your time with the game, please consider supporting the Frostworks patreon! (Jilly worked really hard on the banner!)

STORY
Embark on an unlikely quest to become the world's greatest adventurer in the first chapter of this action-packed tale!

Matthew has dreamed of becoming an adventurer for years, and today is finally the day he sets out to make a name for himself. He quickly realizes after a sticky encounter with a slime girl that perhaps he's not quite cut out for this whole adventuring business after all.

Even with his first quest ending in a failure... and the second... and the third... he doesn't let it get him down! He just keeps trying, day after day. Surely he'll succeed one day, right? ...Right?
Quest Failed - Chapter One features:
Five different monster girls to encounter, each more feisty than the last as they come crashing into the poor adventurer's life
Fully voiced, expansive h-scenes featuring intense action with each of the monster girls
Relive your defeats in the gallery--either by simply viewing the CG, or by replaying the scenes altogether
A lengthy, action-packed (in more ways than one!) story that sets the scene for far greater things to come in this young adventurer's journey
CHARACTERS

Jilly, the Mischievous Slime Girl

The first monster girl the main character has the misfortune of meeting.

She's a bouncy, friendly and fun-loving slime, opting to tag along with Matt for her own amusement, viewing him as one of the few humans that she can approach without fear of being smushed beyond repair. Though, her playfulness can perhaps get a little out of hand the more excited she gets, spelling trouble for our unfortunate hero.

Nefertari, the Sleepy Mummy

A perpetually sleepy mummy, roused from her centuries long slumber by the unsuspecting main character who stumbles upon her resting place.

A lot of the sleepy mummy's history is shrouded in mystery, with even Tari herself not being able to recall much of her past life, or even what she had for breakfast, for that matter. Despite this, she is a friendly, caring individual. Even if her hugs can end up being just a touch too strong for most spines to withstand...

Her bandages appear to have a mind of their own and act according to her emotions; ensnaring and capturing those whose 'warmth' she wishes to take, needing to sustain herself on energy borrowed from others due to her undead nature.

Ruby, the Bandit Dragon
Roaming the land in search of fame and fortune, Ruby is one of the more vicious monsters of the cast, proving to be the first real life or death encounters for our poor would-be adventurer.

Relishing the heat of battle and always searching for someone to finally be able to give her a true challenge, it doesn't need to be said that Matt ultimately fails in this regard and falls before her, just like many others previously. Yet... Rather than crush his skull under her claw like the others...something strange happens.

Lucille, the Bewitching Lamia
A lamia who lives in a secluded hut within the swamps, dabbling in witchery and other such forbidden, dark arts.

While civil at first in welcoming a lost and confused Matt, her true, lustful nature quickly begins to show itself the more time he spends in her company as he realises that most people who were invited into her hut...usually don't come out alive.

????
A small, mysterious girl who appears to exude death and despair from every fiber of her shrouded being.
With an undead army at her heel and a trail of ruined villages left in her wake as she expands her ever growing horde, it's clear she intends to wage war. And being a girl of few words, no one has yet to understand her true goal from all of the death and destruction she brings.
However, upon seeing Matt, she hesitates in adding him to her undead ranks, claiming that his face reminds her of somebody she once held very dear to her heart--somebody that has been cruelly taken away from her.
---
Thank you for your interest, and I hope you enjoy Matthew's first venture out into this crazy, monster girl filled world!

If you have any thoughts on the game, changes you would like to see, or run into any issues, please feel free to get in contact with me at unlimitedfrostworks@gmail.com.
You may follow me on Twitter (@frost-works) , too, for sporadic updates on things. Chapter Two is well underway and I'll be sharing lots of little sneak peeks on its development!

Additionally, if you would like to support the game further while it's being developed, please feel free to take a look at the Frostworks Patreon, of which offers a variety of custom content tiers for those that may want their own monster girl stories or custom games created!
Chapter One Credits:
Sprite Art - Daphinteresting
CG Art - Mogucho, Sassquatch, Yui.H
Background Art - Daodao, Aimless Art
Music (Royalty Free) - Wingless Seraph and Ontama-M
Voices - Mimi Hung (Jilly), Venus LeMay (Nefertari), Misty Moon (Ruby, ????), Aria Lynn (Lucille)
Writing/Scripting/Programming/GUI/Misc. - FrostWorks

---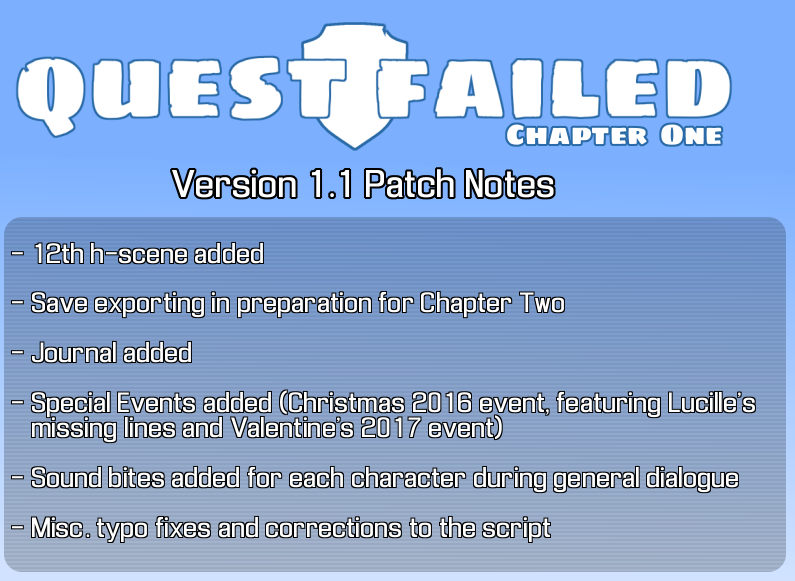 [Click here for more detailed patch notes!]

| | |
| --- | --- |
| Status | Released |
| Platforms | Windows, macOS, Linux |
| Rating | |
| Author | FrostWorks |
| Genre | Visual Novel, Interactive Fiction |
| Made with | Ren'Py |
| Tags | Adult, Comedy, Dating Sim, drama, Erotic, Fantasy, monster-girls, renpy |
| Average session | About an hour |
| Inputs | Keyboard, Mouse |
Purchase
In order to download this game you must purchase it at or above the minimum price of $12 USD. You will get access to the following files:
Quest Failed - Chapter One v 1.1 - Windows
337 MB
Quest Failed - Chapter One v 1.1 - Mac
335 MB
Quest Failed - Chapter One v 1.1 - Linux
336 MB
Download demo